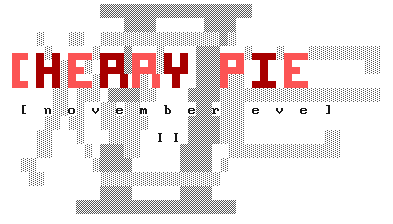 Welcome to the feature of November Eve 2: Cherry Pie. This feature includes some information about Tseng, a list of his previous games and an interview with him.
Last minute update
Tseng informed me that he cancelled this game. =( However, he released the unfinished version of it and told me it was alright to still put up this feature. Just so you know, some parts of this feature may be a little outdated. .
Tseng and Da Hood
Tseng McQueen, or Mike Renner, came to the ZZT scene in 1997. Since that time he has been in quite some companies, including Damage Incorporated and Interactive Fantasies. He has released a lot of games. All of his games have something in common; they take place in Tseng's own gaming universe: Da Hood. From his first released game, Final Trigger 1, till the latest, November Eve 2, the same characters appear. Probably the most famous of them all is Gem Hunter, the star of the Gem Hunter games :). Other well-known Da Hoodians include Master Walnut ("go to hell"), Kim, Qwerty, Reno, Steve, Voice and False Leader. For quite some time Tseng has run a webpage called "Roadblock on the Road to Eternity" (which was named "The Second Coming" for some time as well). Currently he's making a page for the company of which he's president now: Death Defyer Products.
Previous games




This is a list of the previous games that Tseng has released. Also shown is the company under which the game was released.

Final Trigger 1 - 4 (Triggersoft)
Da Hood (Triggersoft)
Gem Hunter (Triggersoft)
Gem Hunter SE (Damage Incorporated)
Stone Cold Demo (Damage Incorporated)
Last November (Damage Incorporated)
Last November 2: The Ibi Files (Umlaut Commune)
Gem Hunter 2 (Damage Incorporated)
Roach Motel (Reptile House)
Da Hood SE (Reptile House)
Gem Hunter 2 SE version 1 (Reptile House)
November Eve (no company)
Welcome to Hell (Interactive Fantasies)
Gem Hunter 3 (Interactive Fantasies)
Stairway to Da Hood (Interactive Fantasies)
Gem Hunter 2 SE version 2 (Interactive Fantasies)
Information about the game
In this game you play the role of Abigail, a teenage girl. The game starts with you going on your first date with Brian. The two of you fall in love... But then, Brian slips off a dune. Abigail, being desperate, makes a prayer to the God Ramia. Ramia wants to help you, but in exchange you will need to become the bearer of his soul. This is where a long adventureof exploring a vast RPG world starts. Along the way you will meet many people who will help you, hundreds of enemies to defeat, and more... The graphics in this game look awesome too, and there will be plenty of GDM songs to listen to. This all will probably make this game THE MegaZeux hit of 1999!
Interview with Tseng
Hercules:
First of all - why did you decide to create another ZZT game after you quit a while ago?
Tseng:
Well, cap'n, the wee engines cannah take the strain! ...Wait, no, that's not it. I came back, faster than a Dudley Death Drop, because I felt that the commune really needs another decent game, and I know that I'm the hero for the job. Besides, now that I'm no longer in Interactive Fantasies, I'm praying to GOD that I can grab that GotM, now. It would be cool, too, same time of the year, same series, it's perfect, isn't it?
Hercules:
Cherry Pie is the sequel to November Eve. The title may seem weird to a lot of people. Could you explain the title and could you tell me why you chose this for the title?
Tseng:




Well, you remember Lord of Chaos, don't you? I used to follow him around calling him the Lord of Cherry Pies. My philosophy is that 'chaos is merely a form of cherry pie'. So, in essence, the title of the game, in Tseng terms, is Chaos. Now, I didn't want to use a generic name like "Chaos" for the title of my game... for one, it's probably already been used, but I also didn't want to be completely inoriginal. I eventually decided that it should be a sequel to November Eve II, since it's starring Kim, after all.




Hercules:




Cherry Pie is an action game, somewhat resembling Zenith's Lebensraum. Why did you decide to make this Da Hood game a full action game?



Tseng:
Lebensraum ranks as my second favorite Zenith game (right after Dragon Woods), and I recently played it again. I got inspired. I also played Infestation 2 again, and got even more inspired. After a while of this, I decided to go ahead and try my hand at an action game. Yes, it resembles Lebensraum a bit, with all the guard alert things, and all, but I wanted it to stand alone. There's more than three enemies. I have mindless guards. I have mindless super guards. I have Xamboxumbadria mutants. I have marines. I have geriatrics. I have a lot of good god damn monsters. It's an arcade shooter, by my standards. There's a status screen between each level that gives you a performance check. Besides, it's a hell of a lot easier to make an action game than, say, a role-playing game. November Eve took me SIX MONTHS to make, after all. And also, I got a lot of complaints about NE's multitudes of cinemas. I mean, it's the Xenogears of ZZT.
Hercules:
Most of your Da Hood games star Gem Hunter. This game focusses on Kim, his girlfriend. Is there a specific reason for this?
Tseng:




Well, first of all, thanks to the game's time-frame, Kimmy is now Gem Hunter's wife. The reason why she's the main character of NEII is because, first, November Eve has never really been Gem Hunter's cup of tea.




Hercules:




Except for the action parts in the game, are you planning on adding any other things (like engines, cinemas)?




Tseng:




It can't be November Eve without cinemas, but luckily, I had mercy on you people and didn't put too many in. I also gave you the option to skip it. I've learned my lesson from November Eve, believe me. Still, NEII is not like a Parasite Eve II. For one, it isn't even OUT yet, and for two, thanks to one, I haven't played it.



Hercules:
Could you tell me how many boards or how many levels this game is going to be? And do you have any idea of when the game will be released?
Tseng:
I'm not sure how many boards it'll take me to finish NEII. I don't want to split it into multiple files, but right now, the game stands to have five levels. Unlike Lebensraum, though, I wanted to make some detailed graphics. I mean, sure, it keeps me from having secret rooms, but it just looks damned good, yeah? As for a release date, it's going to be out... sooner than you think.
Hercules:
Cherry Pie is another game set in your Da Hood universe. After this game, can we expect other Da Hood projects from you?
Tseng:




I'm currently working on my comic project, 'the Field of Pain', which stars my ever popular clan of misfits, the Boys in Blue. Other than that, I'm trying to focus on the other two (of four, the Boys in Blue is one of the storylines) storylines of Da Hood: Voice's and Aric's. I've pretty much abandoned 'Peace, Love, and Life Savers' in favor of Field of Pain and all the other things I do. I'm not sure if I'll do another ZZT game. Chuck would e-mail me, IM me, something and be all like, "I TOLD YOU SO", because he's the "I TOLD YOU SO" kind of guy, y'know? And that would piss me off. But given that there's very few decent ZZT games released, these days, I may have to come back and save its ass, again, anyway. I feel like Chris Jericho, all of a sudden.



Hercules:
Is there anything else you'd like to say to the readers?
Tseng:
TESTIFY!
Hercules:
Thanks for your time. See you later!
Tseng:
I am not in compliance.