MegaZeux 2.92c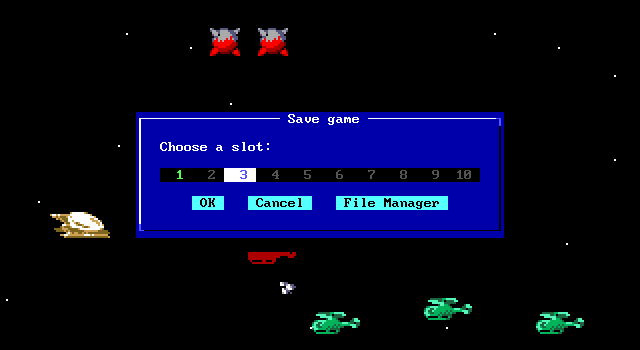 Release Info
Here's another bugfix release, this time mostly oriented towards fixing bugs in the Emscripten/HTML5 port and checkres (NOTE: anyone planning to release their game on itch.io should use THIS RELEASE, not 2.92b!). Other fixes of note are the module_resample_mode (formerly 'modplug_resample_mode') config setting has been fixed, numerous optimizations have been made to the software layer renderer, and yet another ternary operator bug has been fixed.
Finally, Spectere has contributed an experimental save slots UI that can be enabled with the config setting "save_slots" (pictured above). This feature is intended primarily for consoles and will likely be enabled by default for consoles in the future.
MegaZeux 2.92c Changelog
MZX 2.9x Credits
Lachesis - Developer, maintainer
Dr. Lancer-X - Developer (layer rendering)
asiekierka - Developer (various ports)
Spectere - Developer (various features), Darwin binaries, MSVC/Xcode
ajs - Developer (initial SDL 2 support)
Terryn - Help file, testing
Insidious - Ubuntu binaries
>>Download MegaZeux 2.92c<<










Android build TBD
Or, on Windows, you can press U or F7 on the title screen to run MegaZeux's built-in updater.
>>Useful Links<<
>>Features Added in 2.90+<<
Want to catch up on the major features added since 2.90 and don't want to read through the changelog for them? They're summarized in these threads:
This post has been edited by Lachesis: 02 April 2020 - 02:39 AM
Reason for edit: Added Mac OS X (PowerPC) link